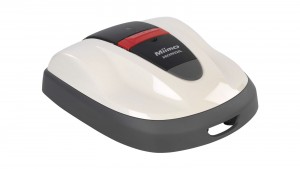 It's been a long time coming: 5 years since it was first shown to the public and four years on the market in Europe, we're finally going to get Honda's robotic mower. While the Miimo has been compared to the Roomba, this tiny rechargeable mower takes a new approach to mowing that makes it unlike anything on the market. However, that doesn't mean you should throw out your walk-behind mower just yet: it comes with some limitations that make it more of a niche product than a replacement for human-operated devices.
A New Way to Mow
The Miimo can handle slopes up to 25 degrees and can cut to a height ranging between 0.8 and 2.4 inches like most mowers, but it doesn't cut grass like a traditional mower. It uses three tiny blades mounted to a fan designed to increase mowing chamber vacuum. This combination cuts off just 0.12 inches (three millimeters) of grass with each pass. These tiny clippings are absorbed into the top layer of the soil without requiring the multiple cuts of a mulching mower, and since it doesn't need an operator, the Miimo can cut far more often to maintain grass height for an even finish through the season.
Navigation
The Miimo's navigation is controlled primarily through a set of boundary wires that are installed by a certified technician when the mower is first purchased. This wire outlines the edges of the yard as well as obstacles including trees and landscaping features. Depending on the area, this wire can be under or on top of the ground surface, making for a clean installation.
When mowing, the unit uses sensors to both pick up the positions of the boundary wires and scan around its immediate location for obstacles. The fully floating cover has its own sensor system that tells the mower if a collision is detected.
Cutting Modes and Times
This mower uses two independent wheel motors, letting it maneuver like a ZTR; Honda says this lets the mower turn around obstacles without ever needing to back up, saving considerable time when mowing. The onboard computer can be set to approach mowing in 5 different ways:
– Random mode turns the mower at a wide angle when it detects a boundary wire.
– Directional turns the mower at a narrow-angle when it detects a wire, helping it maneuver in narrow areas near gardens and sheds.
– Mixed mode lets the mower switch between random and directional modes as needed.
– Spiral mode tells the mower to concentrate on areas that are likely to have the highest growth.
– Edge mode tells the mower to mow along the boundary lines first.
Why so many cutting modes? In most cases, the Miimo won't be able to cut an entire lawn all at once, so it needs to make the most out of each charge. The Miimo HRM 310 can mow for up to 30 minutes between charges, while the HRM 520 comes with a bigger battery that can last up to 60 minutes. The cutting width is only 8.7 inches, which severely limits the coverage per charge. Once the battery is at 30%, the mower drives back to its docking station and will need to recharge for about a half hour before mowing again.
Security
What if someone decides to walk off with your fancy robot mower or it tips over? If the Miimo loses contact with the ground, it will shut off immediately and sound an alarm. The only way to reactivate the unit is by typing in a PIN.
Is This Mower a Good Choice for My Yard?
If you have a small lawn and you want to take out a significant chunk of the maintenance, the Miimo may be a good fit. However, it isn't going to eliminate yard work. It can't cut large amounts of growth at one time, and it can't bag clippings that could spread weeds, so you may still need to pull out a walk-behind mower now and then. With the ability to cover ¾ of an acre at most, its use is limited to small suburban lawns.
No Matter What You Choose, We Have the Parts to Keep Your Honda Equipment Working
Whether you let an HRM 310 do the cutting or you use a walk-behind HRC for your landscaping business, you can get everything you need for your Honda small engine equipment at www.hondalawnparts.com. As a certified Honda dealer, we're able to supply you with parts for all of their small engines and equipment from mowers to water pumps, and we can ship those parts to any address in the U.S. and Canada.