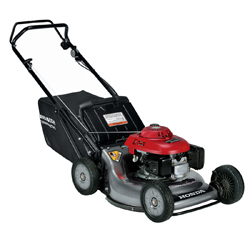 Even the largest operations need a walk-behind mower on hand to do work in confined spaces and around obstacles that block larger machines, but most small models are residential mowers that can't handle commercial demands. Honda's HRC professional mowers are built for this niche, offering professional-quality components in a small walk-behind package.
Deck
All versions of the HRC use a 21-inch deck stamped from 16 gauge steel with an integrated front bumper and edge guards. This deck is supported by 9-inch wheels made out of NeXite, the same super strong plastic Honda uses to make decks for some of their residential mowers. These wheels ride on sealed ball bearings, so they roll easy and require no maintenance.
The deck can be used for rear discharge, bagging or mulching. Honda's MicroCut design uses a high lift blade and a flat blade stacked on top of each other. With each pass, these blades cut twice, leaving behind smaller clippings, reducing grass volume by up to 30% and preventing clumping on wet grass. The onboard bag holds up to 2.5 bushels of clippings, and the deck has 8 cutting heights ranging from ¾ inch to 4 inches.
Engines
There are two engines available in these mowers: the GSV160 and the GXV160.
The GSV160 is an overhead cam design based on Honda's residential GCV engines, but it uses upgraded components to handle commercial duty. This includes a cast iron cylinder liner, stronger crankshaft bearings, and a two-stage air cleaner. It still retains the low noise, low vibrations and easy starting of the GCV. This engine is only available with the HRX216PDA.
The HDA and HXA are both powered by the GXV160. The GX line of overhead valve commercial engines are renowned for their reliability and have become the de facto standard for professional small engine equipment. Like the GSV, it has a dual element air filter. Both engines are fitted with a manual fuel shutoff to prevent carburetor flooding during transit.
Control
The fold-down handle is made from one-inch tubing, giving it strength and providing a wide grip area that reduces hand fatigue. The grip area is angled to limit wrist tension, and the hand controls use sealed, adjustable cables that require no maintenance and won't turn rusty while in storage.
Drive
The PDA is a push mower, while the HDA and HXA use a hydrostatic transmission. This unit is as small as a conventional geared transmission, but it delivers the same infinite speed adjustment of its larger counterparts. The cruise control function lets you set a speed, then return to it by squeezing the bail, even if you've had to shut off the engine. The transmission connects to the crankshaft using a shaft drive, so there are no belts to change.
The HRC216HXA also comes with Roto-Stop. Instead of mounting the blades directly onto the crankshaft, they're engaged using a clutch. The blades can be stopped for safety when moving away from the mower without stopping the engine. That means you won't need to restart the engine after moving debris or branches.
Warranty
Both engines offered in the HRC line have a two-year warranty, while the rest of the mower is covered for one year of commercial use or two years of residential use.
Getting Parts for Your Commercial Mower
As a certified dealer for Honda Engines and Honda Power Equipment, www.hondalawnparts.com can ship anything you need for your HRC mower to any address in the U.S. or Canada. Finding what you need it easy: just pick your model and serial number, and our search engine will show you factory parts diagrams and descriptions.