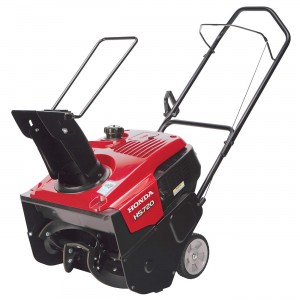 The Honda HS720 snow thrower is a powerful piece of equipment, which makes it an asset for homeowners who routinely have to clear away deep snow accumulations. The power used for clearing snow can also cause serious, long-term injuries if operators don't operate the equipment safely from start to finish. In order to avoid injury and enjoy only the safe convenience of the HS720, operators should follow a few basic guidelines and tips that will keep them safe as the snow thrower powers through snow drifts, deep snow, and even icy buildups around the home.
1. Avoid a Rotating Auger
The snow thrower's auger is a sharp and powerful piece of equipment, designed to cut through snow and move it out of the way. Interacting with an auger while it rotates can result in serious operator injury that could very well result in an emergency situation. To avoid this type of injury, simply disengage the auger drive lever before clearing any clogs or otherwise inspecting the equipment. The auger will stop spinning as soon as the auger drive lever is released. Within a few seconds, safe inspection, maintenance, or clearing can be completed without risking painful, long-term injuries.
2. Clear the Operation Area
One of the most common sources of injury is debris that has gone airborne during snow thrower operation. To avoid this unfortunate circumstance, operators should always take a few moments to inspect the operation area before they engage the auger and drive system. Look for large pieces of ice, larger rocks, and any other objects that might not be safe if they're picked up and processed by the snow thrower. By taking just a few extra minutes to inspect and plan the snow-clearing route in advance, debris can be avoided and emergency situations can be averted before they present themselves.
3. Keep All Protective Shields in Place
The HS720 comes with several protective shields that are designed to keep clogs and debris at bay, just in case operators miss something during their pre-operation inspection of the snow-clearing path. Do not remove these shields. Essentially, each installed shield is an operator's last line of defense against large debris and potentially serious injuries that might result in life-threatening circumstances while clearing snow. If a shield must be removed during maintenance, or if it becomes damaged, replace it prior to engaging the snow thrower for any reason.
4. Refuel the Snow Thrower Carefully
Refueling might seem like a rather easy, injury-free task, but this is not always the case. Fuel can sometimes spark if it's placed into the engine while it's running or while it's still hot. Before refueling the snow thrower, turn the equipment off and allow it to cool for at least a minute or two. This will significantly reduce the likelihood of sparks, flames, and other risks to operator safety.
5. Turn the Engine Off When the Equipment is Not in Use
As should be done with all types of power equipment, turn the snow thrower off when it's not in use. Whether operators are leaving the area to clear debris, find gasoline and refuel the equipment, or perform any other task away from the snow thrower, powering the equipment off can dramatically reduce accidental injury in the process. The snow thrower will restart easily, even after a brief break, so this will not cause any significant loss in power or productivity when clearing snow.
Operation Guidelines for Operating the Snow Thrower Safely
In addition to some basic safety tips, HS720 snow thrower owners can also benefit from following a few basic guidelines on tough terrain and in challenging conditions. Before using the snow thrower to clear away another of nature's wintry messes, review these basic operation tips in order to reduce the risk of serious injury on the job.
1. Operation on Slopes
Operators should always walk left to right across a slope, rather than in an "up-and-down" motion. This will help to avoid slipping, falling, otherwise losing control of the snow thrower at any point.
2. Ideal Operation Conditions
The snow thrower should only be used after a winter storm has cleared the area. Operators should make sure that they have clear and full visibility of the operating area, and they should use the snow thrower only when they're dressed appropriately for cold weather. The snow thrower should not be used to clear significant accumulations of ice, nor should it be used in close proximity to cars or a home's windows.
3. Operator Responsibility
The operator is responsible for monitoring and avoiding a few hazardous conditions as they clear snow away from the home. These concerns include:
– Hot Exhaust
The snow thrower's engine will produce extremely hot exhaust. In close proximity, this exhaust can result in burns and other serious injuries. Stay clear of the exhaust discharge while clearing snow.
– Carbon Monoxide Hazards
The snow thrower can lead to carbon monoxide poisoning if its engine is turned on in an enclosed area. Never start the engine in a garage, tool shed, or any other area that lacks sufficient ventilation. Instead, engage the engine only in outdoor areas.
– Clearing a Clogged Discharge Chute
A clogged discharge chute can damage the engine and present a significant risk to operator injury. Use the included clog discharge tool to remove snow and ice blockages promptly when they arise during snow clearing.
Stay Safe with Prompt Maintenance, Repairs, and OEM Parts
Finally, remember that prompt maintenance with OEM Honda parts is the best way to keep both the snow thrower and its operator safe from harm. HondaLawnParts.com can help operators find the right part for their needs, thanks to an easy search tool that sorts parts by snow thrower model, engine manufacturer, and part number. This makes equipment maintenance and safety easier than ever.