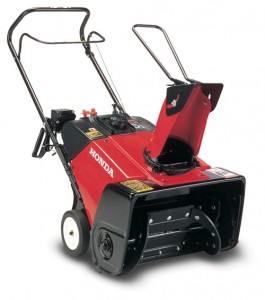 Honda has a range of snow blowers to fit most needs, from small snow throwers that can clear driveways to big track-driven blowers that can tackle hills and snowbanks.
However, there's sometimes a particular problem that these stock units don't solve.
That's why the company offers accessories that can address these issues while retaining their products' trademark durability. Whether you need to work in tight spaces, handle snow drifts or just want to be more comfortable when getting the job done, Honda has you covered.
How do I know if an accessory will fit my model of snow blower?
Most parts are designed to fit either single or dual stage models, while a few are built for one or two specific lines. Honda puts the model name on the top of the engine cover on single stage models and on the side of the auger housing on dual stage models. Additional information can be found on either on the rear axle or the back side of the handle.
What accessories can I get for my Honda Snow Blower?
Skid Shoes – Properly adjusted shoes keep the snow blower's auger from making contact with the ground, letting it skim over gravel and other small debris. The original equipment pads will last a long time for most owners, but they can wear out quickly when used on pavement and other hard surfaces. For those who find they have to replace the skid shoes repeatedly during the season, Honda offers a commercial grade version that has better durability. These shoes are available for all of Honda's dual stage models.
Cover – Made out of urethane-coated polyester, Honda's covers are tailored to fit perfectly over their snow blowers. Both waterproof and breathable, they keep moisture from melting snow from staying on the blower while still protecting it from the elements. The company offers covers to fit all of their models.
Cold Weather Cab – Even in the best clothing, operating a snow blower can be harsh, uncomfortable work. This cab surrounds the operator's upper body, deflecting wind and snow while retaining easy access to the controls. This accessory fits HS624, HS724, HS828, HS928, HS928K1, HS1132, HS1332 and HS1336i models.
Drift Breaker Kit – Have snow drifts that are taller than the blower housing? A drift breaker stretches beyond the auger housing, knocking down tall snow so that it can be picked up by the auger. This doesn't just extend the blower's reach, it gets higher snow into auger instead of letting it fall and pile up on the auger housing. Honda makes drift breaker kits for all of their snow blowers except the HS35, HS521 and HS621 models.
Chute Guide Handle – Need to use the snow blower in tight spaces? The standard handle is 18 inches long, which can be difficult to turn when next to walls. Honda offers an 11 inch version that can be bolted on in place of the standard handle, letting the operator swivel the chute in any direction no matter where the snow blower is. This part will fit on any Honda snow blower equipped with the standard handle.
Work Light – Need better visibility when you're working? Honda offers a kit for HS724 models that adds a 50 watt halogen light. Installation is extremely easy: the bulb is grounded on the bracket, so only a single wire needs to be run to the stator. The included bracket attaches to the snow blower using two bolts that go through pre-drilled holes, and it turns on whenever the engine is running, so there's no switch to install.
Where can I get these accessories?
www.hondalawnparts.com has all these accessories and more in stock for your Honda snow blower. The user friendly online parts search tool enables easy part identification and location. Contact an expert, if you need any advice with Honda Snowblower maintenance.