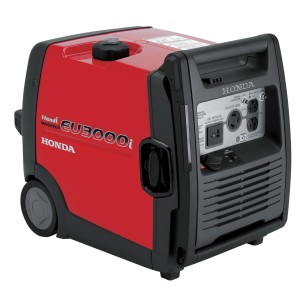 Recreational generators are some of the smallest and most versatile generators on the market, designed to easily accompany their owners through a wide variety of situations. most often, these generators are used to supply power to an RV or motorhome during camping vacations. In other cases, they might supply limited power to light up outdoor sports games or make a small hunting lodge more enjoyable during the coldest months of the year.
Each recreational generator comes with a number of benefits for different kinds of usage. Those benefits generally arise based on the generator's rated wattage, its weight and portability, and how long it can provide power to the recreational pursuit it's designed to assist. Picking one of these generators is actually straightforward as long as a few concerns are kept in mind while shopping.
Perhaps the Most Important Factor: Generator Wattage
The wattage produced by a generator will directly affect just how useful it is during recreational pursuits. A lower wattage generator will be good for powering just one or two appliances, and maybe a few lights, while those with a higher rated wattage will be more adept at keeping the lights on, providing heat, and sending power to most appliances and electronics.
Generally speaking, Honda's entry-level EU recreational generators are perfect for less power-intensive purposes. The company's smallest model produces 1,000 watts of power. An upgraded version produces twice that, at 2,000 watts. The EU model series can provide as much as 3,000 watts of power, but more demanding customers may want to choose the EG series. That series can provide between 4,000 and 6,5000 watts on demand.
Consider the Generator's Engine Size
The size of the engine within a generator will definitely impact just how many watts of power it can produce, but there are other side effects when choosing a given engine type or size. The size of the engine will determine how quickly it consumes fuel, which could affect the generator's run time in either a positive or negative way. The engine's weight will also be a key way to determine if the mode is portable enough for recreational use.
The Great Debate: Recoil vs. Electric Start
For a long time, generators came with exactly one method starting the equipment: The recoil rope and hand grip. That is now not the case, with many recreational models offering push-button electric starters that are far more convenient and quite a bit less stressful. These models are generally more expensive, though, and they come with engines that might be a bit too big for ultimate portability. Furthermore, some electric start models don't have a recoil backup.
Choose a generator that is small and portable with the right wattage for the task at hand. If it comes with an electric starter, be sure that it includes a recoil backup in case of an emergency. A sensible decision will result not only in convenience, but in the ability to use the generator anywhere and for any recreational .purpose.
Don't Forget to Check the Rated Run Time
Every generator requires fuel for it to operate, and the rate at which that fuel is burned by the engine will determine the overall run time of the generator. Choose a model that can last for as long as possible with a refuel, particularly in recreational environments. These generators are usually used in pretty remote places, far from a nearby gas station. That can make constant refueling nearly impossible, as well as a pretty big hassle.
Most generators in the EU series offer between 8 and 20 hours of maximum run time, and the EG series typically offers about 20 hours per tank of gasoline. Pick the model that lasts long, is small enough to be usable, and provides the right amount of power for its intended use.
Check Fuel Tank Capacity
The capacity of the generator's fuel tank will determine its weight and run time. EU model generators come with fuel tanks as small as 0.6 gallons, though many models increase the size of the fuel tank to compensate for more powerful generating capacity. Make sure that the rated run time and fuel tank capacity are practical prior to purchase, especially for use in remote recreational applications.
Dry Weight and Added Features
The weight of the generator will determine whether or not it's practical for use outside the home. Some models are simply too heavy to be hauled and carried without a big truck and a group of strong assistants. If that's the case, the generator likely isn't a good buy and isn't very useful unless it's designed to be used with a second home or large RV.
For Recreational Generators, Choose HondaLawnParts.com
If the time has come to purchase a generator for recreational use, then its' time to visit HondaLawnParts.com. The website offers a wide array of Honda's recreational generators, primarily from the EU series of models that excels in providing power to campers, outdoor sports, and other recreational uses. The company's history of experience with Honda products means that consumers will find expert advice, plenty of OEM parts, easily accessible by using the online parts lookup tool and just the right generator for their needs.