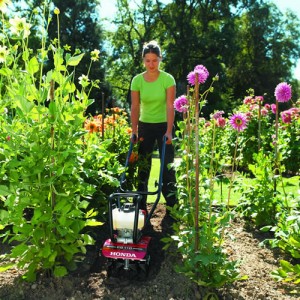 As the weather warms up and winter becomes nothing more than a distant memory, it's time to start preparing for planting season ahead. That means planning everything from seed variants and crops to the specific maintenance that will need to be done on plating equipment like the popular Honda Mini-Tiller. The equipment is easily one of the most common ways to prepare smaller gardens and outdoor areas for a fruitful growing season and, with a few early adjustments and fixes, the equipment can become an integral part of long-term success this year and for many more to come.
A Quick Safety Note for Honda Equipment Users
Tiller maintenance, whether it's the Honda Mini-Tiller or a larger model, can present real safety risks to operators if they don't follow a few precautions throughout each procedure. Before beginning, make sure that the equipment's spark plug has been disconnected and that the engine has been allowed to cool if it was recently used. Wear protective goggles and gloves in case any debris becomes airborne, and to guard against cuts and scrapes that might result from the sharp edges of the tiller's tines. Perform work outdoors or in a well-ventilated garage area, with flat and level surfaces that will help to reduce the likelihood of fuel spills, sparks, and other dangers.
The Maintenance Schedule: A Guide to Important Maintenance Tasks
Maintenance is an exceedingly important part of tiller ownership: Regular maintenance reduces the risk of injury, enhances equipment performance, improves efficiency, and gives the equipment a better chance of lasting well into the future. The maintenance schedule is the chief guide to regular tiller maintenance, listing tasks that must be done at the start and finish of each growing season, before each use of the tiller, or at regular intervals based on the number of hours used. For more information, be sure to check the tiller's user guide for a full schedule of necessary tasks.
Tiller owners looking for a general guide to successful Honda Mini-Tiller maintenance should keep in mind that this typically involves maintaining fluid levels, engine parts, and tiller parts. These big three components are broken down into the following key areas:
Engine Oil
Engine oil should be checked each time the tiller is used, with full oil changes recommended after the first ten hours of operation for new equipment and every 50 hours thereafter. If the equipment doesn't reach 50 hours of use during the growing season, Honda recommends an oil change every six months instead. Generally, Honda recommends 10W30 oil in for use in its tillers.
Air Filter
The tiller's air filter should be checked before the equipment is used each time, since excessive grime can cause difficulties starting the engine or keeping it on for long periods of time. If the filter is very dirty, simply remove it and clean it with a mild detergent before reinserting it into the tiller. If the filter shows serious signs of damage, it should be replaced with an OEM Honda air filter instead.
Spark Plug
Spark plugs should be checked on a routine basis, since damaged spark plugs increase the likelihood of injury and reduce the tiller's capacity to start successfully. Inspect the spark plug by loosening it from the equipment and inspecting for excessive build-up of carbon or dirt deposits. If necessary, clear away those deposits. Don't reinsert the spark plug until its electrodes and insulator are checked. If either of these parts show cracks or other signs of excessive wear, replace the spark plug entirely rather than simply cleaning and reinserting it.
Spark Arrester
Honda spark arresters are a key safety mechanism for the company's modern tillers, and they must be fully inspected and potentially replaced after every 100 hours of equipment use. Follow the instructions in the tiller's user manual to remove, inspect, and either replace or reinsert the spark arrester at the recommended frequency.
Cooling Fin Inspection
Cooling fins, as their name might imply, help to keep the engine cool by encouraging sufficient airflow. For this reason, it's absolutely essential to check the fins for dirt and debris build-up. To do this, loosen the cooling fin's hex bolt and remove the fan cover. Remove any build-up debris and dirt from the fins and then reinstall the fan cover and tighten the necessary hex bolt.
Fuel System
Only gasoline with an octane rating of 86 or higher should be used to refuel the Honda Mini-Tiller. Furthermore, any gasoline used should contain no more than 10 percent Ethanol or 5 percent Methanol. Higher concentrations can damage the engine. Remember never to use diesel fuels in the tiller, since this can cause serious engine problems.
Transmission Lubrication
Transmission lubrication should be done using a petroleum-based NLGI #2 grease defined as a general-purpose lubricant. The tiller requires renewed lubrication of the transmission after every 25 hours of use for ideal operation and efficiency.
Visit HondaLawnParts.com for More Maintenance Recommendations and Parts
HondaLawnParts.com is an excellent resource for Honda Mini-Tiller owners who need replacement parts or lubricants to keep their equipment in top shape. With an extensive array of OEM replacements and a unique, web-based tool that makes finding them a breeze, it's easy to find the best and most compatible part for any tiller model in the Honda lineup.