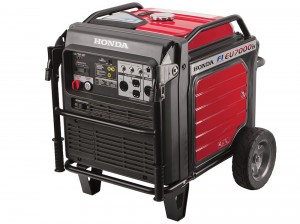 Do you need a source of electricity that is strong enough for major appliances, sophisticated enough for electronics, and both quiet and portable enough for use almost anywhere? The Honda EU7000is is built to do all that, providing reliable, efficient and easy-to-use power for RVs and as a backup for grid power in homes.
Engine Runtime
Power is provided by a GX390 engine with electronic fuel injection. EFI doesn't just improve fuel efficiency, it greatly decreases maintenance. Throttle control is automatic, adjusting to meet the current electrical load for high efficiency. The gas tank holds 5.1 gallons of fuel, which is enough to run the generator up to 18 hours. Even if the electrical load is at the maximum this generator can handle the entire time it's running, that's still enough fuel to last 6 hours. A fuel gauge comes standard, making it easy to monitor consumption.
Electrical Output
The EU7000is produces 5,500 watts of continuous power and a maximum 7,000 watts to handle brief load spikes. That's enough power for everything from Energy Star-certified refrigerators and freezers to sump pumps.
Instead of sending generator power directly to the sockets, this unit makes electricity with a DC generator and converts it into AC current with an inverter. This creates a clean, steady waveform just like the power you get from the grid, making it safe to use with sensitive electronic devices like TVs and computers.
Need even more power? There's a parallel kit available to hook two of these generators together to function as one unit.
Plugging Things In
Power is accessed via two GFCI-protected 120-volt outlets that together can handle up to 20 amps, a 30 amp 125-volt locking plug, and a 30 amp 125/250 volt locking plug. Since this generator provides both 120 and 240-volt power, that would usually mean the full 5,500 watts is only available using 240V current, while the 120V outlets would be limited to just half that. However, this generator can work in two power modes: when you aren't using the 240V outlet, just flip a switch and the generator's full capacity can be used from the 120V outlets.
Power You Can Use Anywhere
This generator may be powerful, but that doesn't mean it's loud. When operating, it only produces 52-60 dBA of noise. That's as loud as someone having a conversation three feet away. The engine comes fitted with a spark arrester, so it's safe to use in areas with fire hazard restrictions. On the move? Handles and wheels are built into the unit for easy transport.
Built to Last
The i-Monitor shows a variety of information including engine speed, wattage, and hours of operation to help you keep up on maintenance and spot potential issues. If the generator is overloaded, circuit breakers prevent the unit from being damaged. The engine is protected by Honda's Oil Alert system, shutting the motor down automatically if the oil level gets too low. A set of lights above the i-Message display tells you when either system is tripped so you can fix the problem and get the generator running again.
Honda covers the entire generator including the engine for three years of commercial and residential use.
Getting Parts for the EU7000is
When you need parts for your Honda generator, visit www.hondalawnparts.com. We're a certified Honda small engine equipment dealer, carrying everything you need from OEM engine parts to parallel kits. Our site even has built-in factory diagrams so you can be sure you're ordering exactly what you need. We can ship your order to any address in the U.S. and Canada.