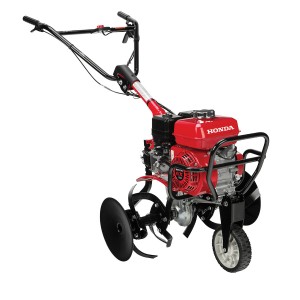 Most tiller models are built for very light work with minimal power and features, or for turning large areas into seed beds for gardening. If you need something that can do both, the Honda FC600 may be what you're looking for. It's small enough for tilling between planted rows, but its feature-packed tine system and commercial engine make it suitable for creating new beds.
Commercial Power
This tiller is powered by a GX160. A staple of commercial outdoor equipment, this compact overhead valve engine delivers reliable performance coupled with features that make it simple to use. An automatic decompression system makes pull starts easy, while Oil Alert keeps the engine from running when there isn't enough oil to lubricate it. Everything from the aluminum pushrods to the air intake system is designed to quell noise and vibration.
In this application, the GX160 produces 4.8 HP and 7.6 lb-ft. of torque. The throttle is controlled by a lever on the handle, letting the operator slow the tines when cutting through soft ground and chunky soil, then speed them up to cut through areas with compacted soil and roots. At top engine speed, the tines spin at 84 RPM.
High-Performance Tines
The mid-tine design puts the weight of the engine directly over the tines, helping push them into the ground, reducing the effort needed on the handles. To get a consistent digging depth, the back is fitted with a tool-free adjustment depth bar. Once digging starts, this bar skims along the top of the un-tilled surface, keeping the machine from digging deeper while letting you know by feel when the tines start lifting up out of the ground.
The FC 600 has 13-inch diameter tines and a total tine width of 26 inches. The staggered design agitates as it cuts through soil, dislodging stones and breaking up compacted soil. Side discs come standard. These keep the tines from catching on fences and sidewalks and deflect dirt away from plants and pavement for easy cleanup.
Need to get a seedbed ready to plant? Honda offers a furrow attachment to create uniform V-shaped trenches.
Built for Bumps
Even the most careful user is bound to run into something, whether it's a fence or a hidden rock. Up top, a large, tubular steel guard protects the front of the engine, and the handle and engine bed are reinforced to withstand bumps when getting close to trees, buildings and landscape features. Shielding around the tine seal shaft as well as axle protection prevents damage from stones tossed up by the tines.
Easy to Operate
The FC 600's handle can be set to one of three positions, helping the operator maintain a comfortable hand position regardless of height. They're long enough to provide ample leverage, so it just takes a little pressure to force the tines into the soil.
When the work is done, there's no need to stoop down to keep the tines lifted off the ground. A front-mounted retractable transport wheel can be lowered into place when the tiller isn't in use, making it easy to roll.
Warranty
Honda guarantees this tiller and its engine for 3 years or residential or commercial use.
Parts
When you need anything for your Honda power equipment or small engines, visit Hondalawnparts.com. As a certified dealer, we're able to offer the complete line of Honda parts and accessories from air filters to furrowers. Not sure what you need? Once you select your model in our search engine, it can show you factory parts diagrams and descriptions so you can be sure you're ordering the right part. We ship across the USA and Canada.