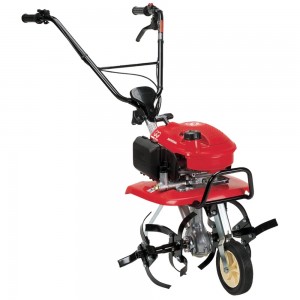 Looking for a tiller that can do it all? Honda's F220 is a mid-tine model that can be set up for two tilling widths, has an engine that can handle tough soil better than compact two strokes, and uses a drive system to take the strain off the tines and the operator.
Power
This model uses Honda's GXV57 engine. While it may be small, it shares the same basic design as Honda's larger commercial engines. This includes features like an automotive-style paper air filter that provides better protection and needs less frequent maintenance than foam filters. Small displacement motors don't need much force to turn over to begin with, and with this engine's automatic decompression system, the starter pull is as light as a feather.
Honda has led the way toward the switch from two to four-stroke engines to meet tightening emissions regulations. This switch doesn't just help the environment, it also brings major improvements to usability. There's no need to mix oil with fuel, and the engine is far less sensitive to fuel degradation. The GXV57's wide torque curve keeps it from stalling when the tines run into compacted dirt, and if it does stall, it's much easier to start. Honda fits the tiller with a steel bar that wraps around the engine, protecting it from impacts during operation and transport.
Tilling
This model has a maximum tilling width of 21 inches. If you need to work around borders or small plots, the outer tines can be removed, reducing the width to 12 inches. At full throttle, the tines spin at 138 RPM.
The mid-tine design places the engine weight directly over the tines, helping push them into the soil. That's 58 lbs. of force that doesn't have to be exerted by the operator.
The engine has an integrated transmission with one forward speed. Since it doesn't have to rely on the tines for momentum, they can do more cutting, giving this small tiller the power to slice through clay and compacted soil.
Honda offers optional side discs that deflect dirt away from plants and pavement for easy cleanup, while the furrow attachment makes a V-shaped trench for planting.
Operation
The handle on the F220 can be set to three positions, giving the operator a comfortable hand position with the right amount of leverage. A front-mounted retractable transport wheel flips up and down with minimal effort. When the wheel is down, the handles can be lifted to roll the tiller around the yard.
Once the tiller is in the work area, the depth bar can be adjusted to limit how deep the tines dig. This creates consistent planting beds, even when the tiller is moved between gardening plots. After the work is done, the handle can be folded forward, making the overall package compact for easy storage and transport.
Warranty
This tiller and its engine are covered for two years of residential use or one year of commercial or rental use.
Getting Parts and Accessories for the F220 Tiller
Hondalawnparts.com is more than an online parts warehouse: we're a certified dealer for Honda Power Equipment and Honda Engines so you can be sure you'll always get quality OEM replacements for your tiller. Our site can search by your model and serial number and will show you factory parts diagrams and parts descriptions so you can be sure you're ordering exactly what you need. We can ship your order to any address in the U.S. or Canada.