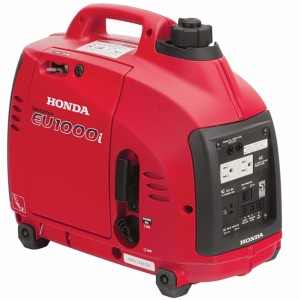 Are you looking for portable power without having to sacrifice quality? Honda's EU1000i generator is perfect for camping and tailgating, offering enough power for common appliances, while its lightweight design makes it easy to move. A full enclosure keeps down noise, while advanced features like Eco Throttle and Oil Alert save money on fuel and repairs, making it the perfect choice for electric power on the go.
Output
This generator can output a steady 900 watts (7.5 amps) and peaks at 1,000 watts (8.3 amps) to handle momentary load spikes. Like Honda's other generators, the EU1000i has a built-in inverter to create a clean power waveform. That means the alternating current coming out of the outlets is smooth and steady like it is from grid power, so it won't burn out sensitive electronics.
The 0.6-gallon gas tank can power this generator for up to three hours and twelve minutes at 100% load, and about 7 hours and 6 minutes at ¼ load. Honda's Eco Throttle automatically adjusts engine speed to match the current electrical load, so you'll always get the best fuel consumption.
Power and Noise
The generator is driven by a four-stroke, 50cc GXH engine. The GHX is a popular choice for water pumps, compact farming equipment, and go-kart racing. The engine, generator, and circuitry are housed in an enclosed case to keep things quiet. When running, it makes 42-50 dB of noise, which is about as loud as the ambient noise in an office building. In most situations, unless you're standing next to it, you won't really notice the sound from the engine.
Portability and Serviceability
The engine on switch and starter handles are built into the side of the case, and there's a built-in oil channel and spark plug access for easy maintenance. Oil Alert comes standard, shutting off the engine if the oil level is too low to keep the engine lubricated. The generator measures 20 x 13 ¼ inches and weighs just 29 lbs, making it easy to carry using the built-in handle.
Connecting To Your Appliances
Appliances connect to the generator through a 125-volt duplex outlet rated at 15 amps. That's two standard outlets sharing the same circuit breaker. There's also a 12 volt, 96-watt connector rated at 8 amps for recharging automotive batteries. Using this connector requires an optional 12-volt cable. The front panel has indicator lights for overload and Oil Alert, and there's a large ground terminal connector for using an external ground. Granted, you're unlikely to be using this low power generator in ways that would require an external ground, such as using appliances on metal floors or wet areas.
What Can This Generator Power?
If it's something you'd use for camping or tailgating, there's a good chance the EU1000i will be able to power it. Here are some common appliances that are compatible with this generator:
– Microwaves up to 650 watts
– TVs
– Media devices including Blu-Ray players, game consoles and media streamers
– Coffee makers
– Blenders
– Slow cookers
– Two-way radios
– Computers
– Phone chargers
Electric motors are reactive loads, requiring large amounts of power to start before settling down and drawing small amounts of current. For this reason, power draw from refrigerators, air conditioners, pumps and all but the smallest power tools are too much for this generator, even if the rated watts or amps are well within its operating range.
Need more power? The EU1000i has a parallel connector, letting you link two of these generators together with an optional parallel cable, doubling output without sacrificing portability.
Warranty
Honda guarantees the EU1000i and the GXH50 that powers it for two years of residential use or one year of commercial use.
Everything You Need for Your Honda in One Place
Hondalawnparts.com is more than just lawn care: we carry OEM parts and accessories for everything from Honda Power Equipment and Honda Engines including their generators. Check our Generator Accessories section for parallel cables and 12-volt cables, or use the search engine to find replacement parts for your specific model. Our site can break down parts listings down to specific serial number ranges, and it can show you factory parts diagrams and descriptions so you can be sure you're ordering the right part. We ship across the U.S. and Canada.