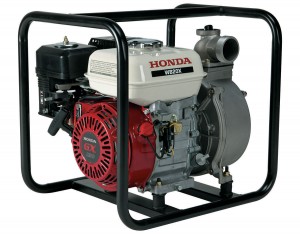 Honda has a great selection of water pumps that can be used in many ways for different applications. Here is some information on what you need to know specifically about the Honda WB20 & WB30 series water pumps.
Uses of the Honda WB20 and WB30 Water Pump
Honda's WB series of general purpose pumps are widely used for commercial use but can also be used in the home as well. General purpose pumps are designed to be used to completely remove water or transfer water to another location. Here are some typical applications that the WB20 and WB30 water pumps are often used in:

irrigation
flood control
filling or draining pools
removing standing water from basements
diverting outdoor water (i.e. streams, ponds)
emptying holding tanks
draining flooded ditches
Engine and Build of the Honda WB20 and WB30 Water Pump
Honda WB20 & WB30 Water Pumps stand out from the crowd with Honda's GX Series commercial-grade engine. As an industry leader, the GX engine boasts four-stroke technology, guaranteeing you the power to get the job done. These machines are built to last and feature commercial-grade components like abrasion-resistant silicon carbide seals, a cast iron volute and impeller, along with a durable, heavy-duty frame protection.
Putting the WB20 and WB30 Honda Water Pump to Work
Once you turn on your Honda pump, you will see how quiet, gentle and smooth the pump runs. Before you begin your job, it is important to know that these pumps are meant to handle mostly water only, although mud, silt, and slime that build up over time is taken into account. Using your pump with any other contaminates may damage the components of your pump. However, Honda has multi-purpose pumps specially designed and engineered to handle other solids and chemical use.
Differences between the WB20 and WB30 Honda Water Pump
Because the WB20 and WB30 water pumps are part of the same series, they have many of the same characteristics. One of the main differences you will find between the two pumps is the amount of power.
The operation of the WB20 is running on a GX 120 engine, whereas the WB30 is using the more powerful GX160 engine. The discharge capacity on the WB20 with centrifugal 2″ pump, leads to a 164 gallons per minute discharge capacity opposed to the 3″ pump of the WB30 with a higher 290 gallons per minute discharge capacity. All in all, the main difference is the Honda WB30 is equipped with the most power out of the two, making the job faster.
Maintaining Your Honda WB20 and WB30 Water Pump
As with most types of equipment, you must take proper care of your pump to ensure its longevity. Oil is a major factor that affects the performance and service life of the pump. It is important to use 4-stroke automotive detergent oil to keep your pump running smoothly. Another thing that will affect engine performance quickly is a dirty air filter. A regular inspection and cleaning of the filter will help keep the dirt from damaging vital engine parts. For commercial use, logging hours of operation will help determine the proper maintenance intervals.
Where to buy new parts for your Honda water pump
If you need new parts for your water pump, don't settle for cheap aftermarket parts. Upgrade to the highest quality OEM replacements available. Honda designed its machines to work smoothly and seamlessly under rigorous conditions and for many seasons of superior service. Get the parts you need at hondalawnparts.com, and keep your machine in top operating condition.