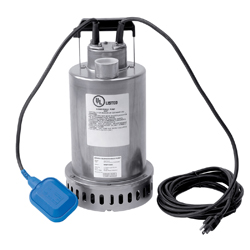 Honda's gas-powered pumps are great for temporary use, but what if you have a situation where you need to move water in a fixed area continuously? By using sealed electric motors, their submersible pumps can handle constant operation, making them perfect for jobs ranging from irrigation to flood cleanup.
Uses
These pumps are perfect for stationary applications where electric power is readily available. Unlike gas-powered pumps, these submersible pumps can be run constantly for days or even weeks at a time as long as they're fully submerged. These models are commonly used for these applications:
– Pumping clear water to and from fountains and pools
– Draining flooded areas in enclosed spaces such as basements
– Garden irrigation
– Removing seepage in residential, commercial and industrial buildings
– Removing waste water from washing machines, water softeners, cisterns and dehumidifiers
These pumps are rated for continuous use when pumping water up to 104°F and can be used for intermittent use for pumping water up to 140°F. That's high enough to handle almost any fresh water continuously and brief pumping of water direct from a household water heater. However, they are not rated to handle corrosive fluids like sea water.
Built with Honda Quality
It may not have one of the company's famous engines, but these pumps are still built with the attention to detail that gives Honda products their reputation for reliability. This starts with a stainless steel case that will remain rust free where coated cases will eventually rust. It insulates the motor with a blanket of air, keeping everything cool when submerged in warm water. Oil lubricated mechanical seals prevent damage if the pump runs dry, and a float switch is included with every model to shut the pump off automatically once the area has been drained. The motor is further protected by a built-in thermal automatic reset to prevent overloading. The pump shaft rides on shielded ball bearings for hundreds of hours of maintenance-free service.
Models
Honda makes both water and trash pumps. Water pumps can handle solids up to 3/8 of an inch in diameter, and they have top-mounted discharge ports. Trash pumps can handle solids up to two inches in diameter and have side-mounted discharge ports.
Along with flow rates and solids capacity, there are two other factors that need to be taken into account when choosing a pump. Head is the maximum vertical distance the pump can move water. Since the intake is built into the bottom of the pump, this is the distance from the pump outlet to the top of the system. Power cable length also limits the placement of the pump. It's built into the pump for a watertight seal, and due to high power demands, it should be plugged directly into an outlet.
Water Pumps
The WPS33 has a 1/3 hp motor that can move up to 40 gallons of water per minute. It has a maximum head of 23 feet, and it comes with a 20-foot power cable. The WSP53 uses a ½ hp motor, giving it a maximum flow rate of 70 GPM and a maximum head of 44 feet. It comes with a 50-foot power cable. The WSP73's ¾ hp motor pumps water up to 54 feet high at a rate of 74 GPM. It comes with a 50-foot power cable.
Trash Pumps
The WSP50's ½ horsepower motor pumps water at a rate of 110 GPM. It has a total head of 32 feet and comes with a 25-foot power cable. The WSP100's one horsepower motor moves up to 150 GPM with a head of 42 feet. It comes with a 25-foot power cable.
What You Need to Use a Submersible Pump
Setting up a submersible pump is much simpler than setting up a gas-powered pump. The strainer is built into the base of the pump, while the discharge opening is designed for use with solid or flexible pipes with G2 pipe fittings. A no-return valve should be built into the pipe system. A heavy cable or rope should be tied to the handle of the pump to lower it into the water and raise it back up. The plug is designed to use with three prong grounded sockets.
Getting Parts for Your Water Pump
www.hondalawnparts.com is a certified dealer for Honda Power Equipment, letting us offer OEM parts for everything Honda makes from gas-powered diaphragm pumps to electric submersible pumps. Whether you need a strainer or a float switch, we can ship your order to any address in the U.S. or Canada.