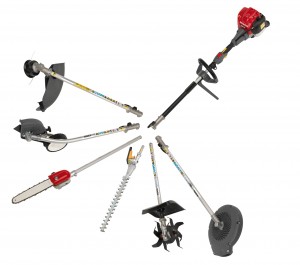 There are a lot of landscaping jobs that can be completed faster with the right small engine equipment, but it isn't always practical to have a dedicated piece of equipment for every task. That's where Honda's VersAttach system comes in: instead of buying individual devices with their own motors, owners can purchase several attachments that work with a single engine and shaft unit.
The SureLok Attachment System
VersAttach attachments and power heads connect to each other using Honda's SureLok system. Connecting an attachment is easy: just line up the arrows on the power unit and attachment, slide them together until they click, and tighten the joint knob. There's no need to line up the driveshafts or check the insertion depth.
When an attachment isn't in use, it can be capped and hung up using the built-in hook.
Power Heads
VersAttach attachments work with two power heads: the 25cc UMC425 and the 35cc UMC435. Aside from the engine displacement, these two units are identical. They both use 4-stroke GX-Series motors, designed to be run and stored in any position despite running on straight gasoline. Both heads have the same shaft and handle design, and they're even covered by the same 36-month residential/26-month commercial warranty. The UMC435 provides more power than the UMC425, but it also weighs about 13 lbs, two pounds more than the 25cc model.
Currently, Honda offers six attachments that work with these power heads:
Trimmer
This attachment turns the power head into a string trimmer that can cut a 16.5-inch swath. The trimmer attachment has a two line bump-feed head that uses 0.105-inch line. Honda also offers a three tooth steel grass blade kit for cutting down tough brush.
Edger
This tool uses a metal blade to cut clean edges around pavement and landscape features. A metal wear strip protects the attachment as it slides close to the ground, while a large shield deflects debris.
Pruner
Need to cut some limbs? This attachment adds a 12-inch chainsaw bar at the end of the power unit's shaft. It uses its own built-in oiling system that can be checked by looking at the sight glass at the side of the saw.
Hedge Trimmer
At just 5.3 inches long, this attachment is compact enough to trim in the tightest locations near buildings, fences, and other obstructions. Double-sided blades make it easy to sculpt shrubs and bushes from any direction.
Cultivator
With a 6.5-inch working width, this tiller attachment can quickly turn a patch of grass into a planting bed.
Blower
Instead of using a large fan connected to a tube like a conventional blower, this attachment has a small, disk-shaped housing with a rectangular outlet at the end of the shaft, making it easier to direct the air. The blower can move up to 235 cubic feet per minute (cfm) at 184 mph when attached to the UMC425, and 250 cfm at 196 MPH with the UMC435.
Getting Parts for Your Honda GX Engine
When it's time to do some maintenance on the power unit or replace parts on one of the accessories, visit www.HondaLawnParts.com. We're a certified Honda small engine equipment dealer specializing in OEM parts. We can ship anything from spark plugs to shaft components to any address in the U.S. and Canada.