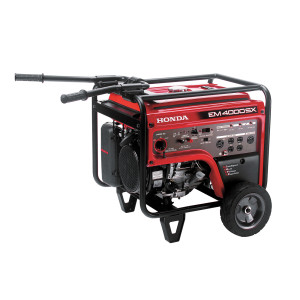 Few water pumps compare to Honda's offerings, all of which use the company's popular four-stroke engines to provide excellent pump performance and long-term power that works in a variety of situation. These pumps, though need to pair their top-notch engine with a number of accessories that help to extend the pump's usefulness, as well as to help it adapt to a wide variety of environments and unique conditions. From hose kits to camlocks, those who already own a Honda pump should consider some accessories to make it even more viable in everyday use.
Hose Kits: Get Off the Ground with Everything Needed for Smooth Operation
A good pump is only as good as the hose assembly that guides water toward its eventual destination, and that's the primary focus of Honda's hose kits for its various models. These hose kits are sort of a "one stop shop" for everything needed to accessorize a pump and put it into action. This includes the actual suction and discharge hoses, as well as strainers to keep debris out of the way. When needed, these kits come with adaptors and couplers required for use with a given pump model.
Pin Lug and Camlock Options for Honda Water Pumps
The variety of Honda water pumps means that the company needs to support both pin lug hose setups and camlock varieties. For those consumers who aren't sure which type of hose their pump requires, or which one they prefer to use, it's worth noting the basic differences between each type of connection.
Pin lug hoses are those that most closely resemble garden hoses. They screw onto the water pump just like a garden hose would, and they have threaded ends so that the hose can easily be extended to any length needed within a home or business. They're the most common form of hose used with Honda's pumps, but not the only variety available.
Camlock hoses are actually a bit more convenient than their pin lug counterparts, with a quick connect system that allows for nearly instant attachment to the water pump. Though these hoses are more convenient, they do often require adaptors for both the suction and discharge hoses used with a pump. These adaptors, naturally, are available in OEM varieties from Honda and authorized dealers.
Hose Couplers and Adaptors
Because hoses come with varying attachments and connectors, pump owners may find that it's a good idea to have a few adaptors on hand. Luckily, Honda actually includes the adaptors necessary for each of its hoses in the hose kits that it sells to consumers. Even so, many people end up buying a selection of other adaptors simply to make their lives a bit easier. Honda's OEM hose adaptors are widely available.
Couplers, too, come with Honda's hose kits but can also be purchased separately. Couplers allow multiple hoses to be attached in an end-to-end manner, making it easier to cover long distances and properly distribute water where necessary. Because these couplers are manufactured by Honda, they're guaranteed to work with the company's OEM hoses, and they're generally a great deal more durable than competing, off-brand couplers sold by other manufacturers.
Other Accessories: Handling the Finer Details
Honda's attention to detail is legendary throughout every type of power equipment it sells, but that attention to detail also finds its way into the company's lineup of accessories for the water pumps that it sells to consumers. Though couplers, hose kits, and even hose adaptors, are commonly in demand, the company has the finer aspects of pump operation covered as well. Among the OEM parts sold for use with Honda's water pumps:
Hose nozzles, made of either brass or polycarbonate material, are available for use with any of the company's OEM hoses. Though both options will get the job done, brass is widely regarded as more durable and longer lasting than polycarbonate alternatives.
Extra gaskets for the hose attachment can be purchased from Honda and its network of nationwide retailers. This is a particularly good part to stock up on, as gaskets are quite small, very easy to lose, and their absence can cause the whole operation to be put on hold until a replacement is purchased and installed.
Pipe nipples, for those buyers who are looking to install a strainer into their hose in order to reduce dirt, sediment, and other debris. Though included in the company's hose kits, Honda does recommend having a few replacements available if needed.
HondaLawnParts.com Has a Full Line of Pump Accessories and Parts
From hoses and adaptors to other key parts for Honda's line of water pumps, HondaLawnParts.com has what most consumers require when setting up their equipment. The company has long been an authorized dealer for Honda's equipment, as well as the company's accessories and a large selection of OEM parts, giving them the experience to help customers with anything they might need.