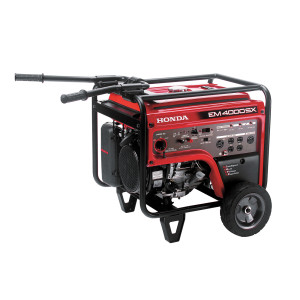 Spring is a refreshing change of pace from the harsh cold of winter, but the transition to warmer temperatures and spring foliage also comes with severe storms and the possibility of a power outage. Around the country, homeowners and business owners everywhere should be checking their Honda generators for potential problems, performing routine maintenance on those generators, and ensuring that they've got the right parts on hand to fix any maintenance problem at a moment's notice. With the right parts available, and the right attention to detail, power outages can be avoided with one of Honda's excellent commercial or residential models.
1. Spark Plugs
There is perhaps nothing more important than spare spark plugs, which can be used to address the most common problems when a Honda generator just wont' start. While Honda's spark plugs are notoriously reliable and built to last, they do age over time, and they may require replacement throughout the season. Of course, diligent generator owners should always replace spark plugs on at least an annual basis, but having a few spares available will bolster peace of mind.
2. Generator Covers
The best way to reduce unplanned for generator maintenance is to make sure that the equipment is covered between uses. Honda's numerous generator covers can be used to safeguard the company's generators against the elements, which is especially important of the large number of generators stored permanently outside at homes and businesses everywhere.
3. Spare Oil
Just like a car, Honda's generators often require new oil or a bit of extra oil added after a great deal of use. Having this oil on hand is the perfect way to ensure that a generator runs perfectly, even for long periods of time, when it is unexpectedly needed to power home or business. Be sure to purchase the right oil for the generator model in use, and this handy supply will prove its worth in no time.
It should also be noted that, if a last-minute oil change is required for the generator to operate properly, equipment owners should make sure that they contain the old oil and dispose of it in an eco-friendly way as soon as possible. There is no need to damage the environment while keeping the lights on during one of Mother Nature's extreme moments.
4. Honda Generator Air Cleaners and Filters
It's great to have electricity during a sweeping power outage, but it's not nice to smell the generator while it works hard to keep the lights on and equipment running. The best way to guard against these odors is to have a fresh air filter installed at all times. Replacement air filters are easy to find, and it's worth stocking up on a few replacements in case they're needed in a time of emergency.
With fresh air cleaners and filters on hand during a power outage, a long-running generator can spare homeowners or business employees from smelling the odor associated with gasoline-fueled power.
5. Replacement Generator Wheels
Most Honda generators can be towed from place to place using built-in wheels. Those wheels make it easy to store some generator models indoors, but their heavy lifting can sometimes result in damage to the wheels that will immobilize them or make them a hassle to use. Having a few extra wheels on hand can ensure that continued mobility of a generator, allowing it to be easily moved into place when it's needed most.
Always Consult the Owner's Manual for Parts and Specifications
Honda's generators are designed to use very specific parts, fluids, and accessories that have been designed to be perfectly compatible with home, commercial, or portable units. When looking for replacement parts or backup supplies, generator owners should always take a quick moment to look through their owner's manual and write down the specific part numbers, model rangers, and other information that will help them shop successfully.
When the right part numbers have been documented, it's worth noting that the best parts to buy are those made by Honda itself. Known as OEM parts, they'll be perfectly compatible with any Honda model, and they'll offer the same great commitment to reliability and longevity that Honda's generators have become known for. Off-brand alternatives, conversely, are sometimes quick to malfunction and often needed to be replaced on a more frequent basis by generator owners.
Choose HondaLawnParts.com for Generator Supplies
Honda generator owners who are looking to stock up on valuable parts should look no further than HondaLawnParts.com. The website is rather easy to use, offers an intuitive parts lookup tool, and allows customers to find all of the OEM parts and accessories that will keep their generator running all year long.
Best of all, HondaLawnParts.com is backed by decades of experience in the generator industry. That gives shoppers access to expert opinions and advice when selecting oil brands and types, generator wheels or covers, and other essential things to have on hand.